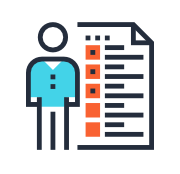 HMIS Documentation
What are some of the things that HMIS documents?
Assist in developing un-duplicated counts of clients served at the local level
Track services used by homeless persons
Capture information from multiple agencies
Track service usage over time
Provide summary information about service usage and clients
What system does HMIS use to document the work of providers?

Important forms required to collect data for entry into HMIS
Click on the name of the form or document below to view or download.
How do I manually collect data for the Annual Assessment of participants in HMIS?
HMIS Data Collection Fillable PDF's